EBook Sale is a great collection of e-books and software at great/reduced price....
What's EBook Sale?:
Here you'll find on sale digital products (ebooks and software) that agree with the theme of this website. Most of what you'll see here, I have read and/or used.
I try to sell the products below market price. Why?
I hope to make up what I paid for them by selling enough copies.
Where I cannot lower that price, it's because some authors specify a price one must sell their product. They do this to protect the value of their product.
Buyers of the e-books and/or software will get download links or have attached in e-mail within 24 hours. If you don't get the e-mail within 24 hours, please use the contact page info to contact me so I can follow up.
To cut the rambling, below are the e-books and software I like:


1. Keys to Power and Prosperity: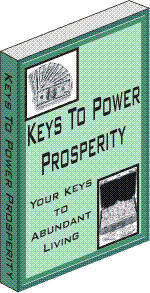 Discover the secrets that wealthy people have refused to reveal to anyone! You will learn:
• The 164 Beliefs That Automatically Attract Prosperity To You
• Why You Are Worth As Much As You Care To Claim
• How To Build Unshakable Self-confidence
• 5 Amazingly Simple Ways To Trick Your Mind Into Attracting Wealth
• How To Use Creative Daydreaming For Prosperous Results
• How To Put The Creativity Into Your Creative Daydreaming
• The Keys To Power Persuasion, Get People To Do What You Want!
• How To Discover Your Personal Pathway To Prosperity. There Are A Million Ways To Make A Million Dollars, What's Your Way? Read This e-book And Find Your Way!
• How To Get Rich In A Business You Know Nothing About! This Is A HUGE Secret That Rich People Almost Never Share.
• MUCH, MUCH MORE!!!
Reading this ebook opened my mind to possibilities. It's simply a roadmap to wealth. For only $29.00, you could have a life changing experience.
Buyers of this ebook will also get the following Bonuses:
1. Killer Mini Sites----if you are into or interested in mini site, this is a must have. It's a step by step guide to order pulling mini sites ebook.
2. 14 Point Web Copy Analysis---- a perfect companion to Killer Mini Sites.
3. Greatest Marketing Secrets-----discover the secrets of the Marketing Masters.
4. 33 Days to Online Success 2004------This Yanik Silver and Jim Edwards ebook took the internet by storm. You can now get your own copy as a bonus.
5. Case Study of 33 Days to online success 2004. Yanik and Jim used real life example to prove what they preach.
6. 7 Psychological Secrets ebook
7. Guaranteed Success Thinking ebook
8. The Secrete to Winning Every Time ebook
9. Special Report on How to Use Surveys to Create Best-selling ebooks and info-products
These are 9 top notch products with a value of more than $1184.00 you get for Free. You simply must order now before I change my mind. You will not find a better way to spend $29.00.

2. 5 Fast Ways to Explode Your Opt-In List!: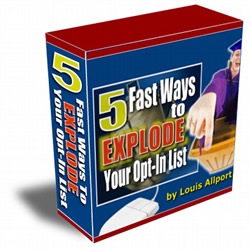 Discover The 5 Free-To-Use Tactics Guaranteed To Explode The Size Of Your Email Opt-In List (And Your Profits) Within The Next Few Days. This Video EBook Teaches you……..
• How To Use A Powerful Intro Page To Get Lots Of Opt-Ins
• How To Design A Simple Yet Effective Intro Page
• How To Easily Add A Form To Your Pages
• How To Benefit From Visitors The Moment They Opt-In
• The Unbeatable Popup That Beats Every Blocker
• How To Get Ready Made Code For Your Own Unbeatable Popups
• How To Instantly Create Your Own Automatic Subscribe Popup
• The New and Powerful Pop Ups That Can Get You Even More Opt-Ins
• How A Content Site Got 100,000 Email Subscribers In Six Months
• And Much More!
You just pay a one time fee of $9.99
Buyers of the Video EBook will get the following ebook bonuses:
1. Opt-In Secrets----Your Crash Course To Building A Killer List!
2. How I Got 1,124 Subscribers in One Week From Scratch!
3. Explosive Opt-In Profits-----Three Powerful Principles to Achieving MAXIMUM Profit from Your Opt-In List!
They say "The Money is in the List!" Now build your own list and make your own money.

3. 10 Easy Steps To A Google Friendly Page: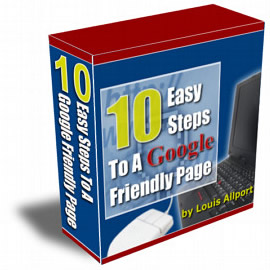 Discover the "Quick & Easy Way To Get More Visitors To Your Website For Free. In this video tutorial, you will learn…..
• An Introduction To "On Page" Search Engine Optimization
• How Your File Size Can Effect Your Search Engine Efforts
• How To Name Your Files With A Search Phrase In Mind
• How To Structure and Effective Title Tag
• How To Use The Meta "Description" Tag Effectively
• How To Use The Heading Tag For Search Engine Optimization
• How to Check and Optimize Your Keyword Density
• How To Structure Your Page Links With The Search Engines In Mind
• How to Automatically Validate All the Links On Your Site
• How To Avoid Common Search Engine Optimization Pitfalls
• And Much Much More!
For $9.99, you'll also get the following bonuses:
1. Self Publishing Made Easy ebook
2. The Online Success BLUEPRINT ebook----A Proven 11 Step Plan For Generating A Healthy Profit On The Internet!
3. Ultra Templates v2.0-----Professionally designed direct response style fully customizable website templates!
4. Misspelled Keyword Generator: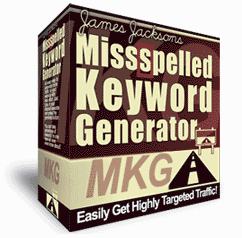 BUILD your keyword list with this innovative software
Of all the phrases and keywords searched every, 10 to 20,000,000 are misspelled. Enter a keyword and Misspelled Keyword generator will give you all the possible ways it could be misspelled. Using the knowledge you gain from this software, you can be ranked #1 in the search engines.
For only $27.00, you can be stomping the competition. But I'm not finished yet. You also get the following bonuses (over $250.00 value) for free:
1. The Easy Audio Pro Generator----Generate audios for your website with easy.
2. Float-In Window Generator-----this is one of the latest rage on the internet
3. Instant Email PopUp Generator
4. Join Venture List Building EBook 5. Joint Venture Marketing Tactics 2004 EBook.
Order Now and make your internet LIFE easier with these products!
Return from
EBook Sale
to
Extra Income Ideas